Shine Farewell
Shine went back to Korea le. went back last wed night..
he held a farewell party for himself at his house (and its potluck AGAIN..) last last sat. but i din go cos i was held up in MIC exco camp..
yeah anyway met up with him and william last tues afternoon at Ben&Jerry before he fly..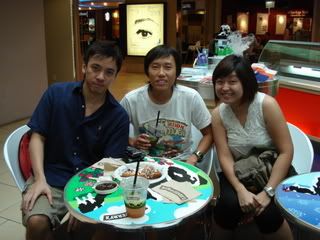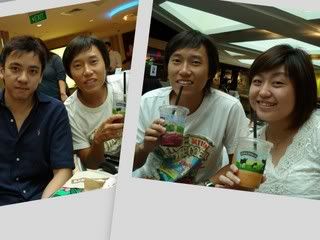 william and i are actually quite un-convinced of shine's reason to go back. cos initially Shine told me that his plans after exams was to go cambodia, then come back, and then will go Bali for one month to learn surfing then come back to singapore and then go back to korea in abt June..
so when he called me last last thurs that he is going back to Korea, i am kinda shock and wonder is he having some troubles at home or what.
so when we asked him y is he changing his plans, he told us: "Because I'm sick." omg, then i became even more worried.. is he getting some serious illness that he need to get medication straight away therefore he need to go back to korea?
so i probed somemore. He told us that after he came back from cambodia, he was having fever for days and having diarrhea.. when i asked him did he go and see a doctor, he shake his head.. he say he is ok now and will see a doctor tmr. then i asked him when is he going back, "Tonight." lol.... what that means? haha dun trust singapore doctors eh?? so just because of this, he canceled his bali plans and go back to Korea? then fever for days still dun wanna see doc, but will see doctor when he say he is feeling ok already... quite ridiculous right?
william and i were still discussing abt it after we went home that day...... haiz really worried for him.. dunno is he hiding something from us or not.
anyway, thou there might be chance of meeting him again, but i think possibility quite low given the fact he stay in Pusan, not Seoul.. and possibility of me gg to Pusan is almost zero hahaha. yeah. so i think that might be the last time i will see him in my life.
Shine is the first exchange student i am more closely related with. so close that even des often get jealous and keep complaining abt me meeting him too much.
well... what can i do with an exchange student? i am not red head.
its just that he is simply too warm. and he's got super high EQ. He is warm to everyone. despite of language barriers, he still have more than 50 friends in singapore. You really feel that he is sincere to u when u talk to him. and that he is someone u really wanted to give a hand to whenever he has trouble or what.
some info abt him and us...
He came to SMU in 2006/07 term1 which is last term and he stayed in SMU for 2 terms, ie one year.
I met him during Music east and west...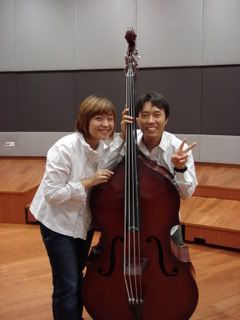 there was another 2 Korea exchange students also, the other 2 of them only stayed in SMU for one term and left liao. one of them smoke and the other was super quiet. so i din really talked to them also.
then after that we took up Rondalla in Music east & west as our concentration. we've to do an emsemble of different rondallas and its so happen that shine, me and liling were playing the same parts. so we often prac together and chat together. sometimes we also meet up outside of class to have lunch and extra practices.
and thanks to him, i went to city harvest church for the first time.. for the Christmas service last year. there, it really seems that i was the "exchange student" and he was the Singaporean. felt so handicapped!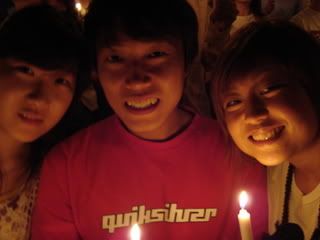 and my parents took us to JB for a short excursion as well..... see, he even know how to deal with aunties and uncles!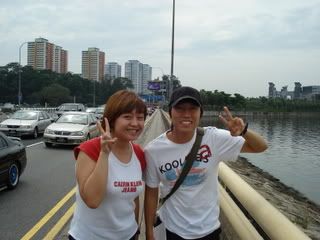 and he invited us to his 25? or 26 birthday party..... haha then we realise how popular he is.. he got so many friends!! i think if i were to have a birthday party, i wouldnt have that amt of friends coming also... let alone being a foreigner!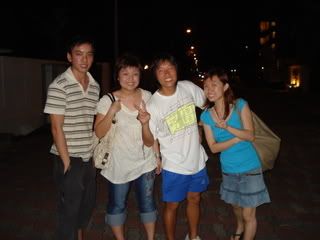 yup.. and thats all about him and me....... haha thats really sounds abit like as if he..... choi!! lol i know he will be fine. my mum say he is that kind of ppl where u dump him in desert he also can survive one.
btw, he did mentioned to us that he is gg to Beijing for summer study in abt July.. lol... everyone is in Beijing.. hee..
Labels: smu