The Tai Tai sale
went to the Isetan Private sale this morning with mummy... yup! went shopping in the MORNING.. the sale starts 9am and end at 10pm. when we got there at 9.30am, we are shocked to see the big crowd there!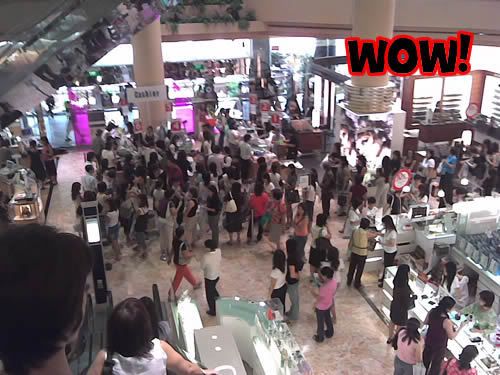 this is our first time going to a much-discussed isetan private sale cos my mum just got their membership recently. the sale is realllyyyyyy worth going and squezzing!
well.. one thing we notice is that TAI TAI ALSO GIAN SALE! there are so many tai tais there lor.. all with curly hair and nice dress, with high high heels.. then there are also exceptionally large no. of mercedes and BMWs at the pick up point to pick up the tai tais.. lol.. anyway one sad thing is that all the nice bags of fendi and ferragamo are all sold out when we reach there. those less 40% ones are all G-O-N-E. the tai tais must have been queueing at the entrance from 8.30am in order to go in at 9am to grab all the great deals.
haha happy thing is i finally got myself a much wanted levi's jeans. at 25% discount! and a dress and a lil denim cardigan... then mum got herself ck escape and moment, and u know what she got as gifts? one 100ml of contradiction, one handbag and one trolley tour bag, and dozens of samples perfum... too bad i need to go back to sch for projects....... but my parents are going back in the afternoon for a second round...
i am so looking forward to the next private sale!