my house as a gambling dent.
*EDITED*
had a poly mates gathering on Friday night at my house..
as usual, i only called those closer ones.. sweehong cannot come cos he work night shift.. so sad... we ordered pizza from canadian.. quite disappointed.. cos we all still feel that pizza hut make better pizza..
after dinner decided to play blackjack.. with desmond being the banker. hmm. now everybody think that desmond is a super gambler.. cos he really behaves like one! .... and huimian even asked me if desmond gambles often. cos he showed professionalism in being a banker and a player.
extracted from qicheng's blog... think its quite funny...
"the bet was small lo.. 10-20cents only... somehow 5cents was introduced into the game.. in the end there was even a bet with 5cents on it... some more blackjack... haha.. it was so funny... the banker was so happy to see a blackjack on a 5cents bet... then huimian started out "investing" on other players... meaning adding bets to other players... somehow it turned out quite successful.. everyone started doing the same stuff... bets everywhere.. make the banker so stress.."
yar.. so in the end i think des lost abit.. banker also can lose one leh...
and a group photo of us........ thanks to leemin's tripod.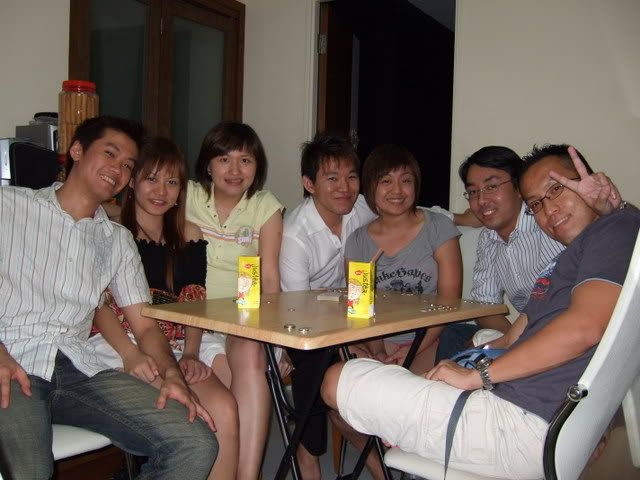 from the left: Joel, Leemin, Huimian, Des, Me, Qicheng, Warner