today was a long day.
went for rehearsal at city campus for vivace performance. as usual, the sound crew is damn attitude. ask him anything also dun wanna answer. i really feel like screwing everybody then. haha.. opps.. cannot.. i am demure. haha of cos not la.. u attitude to me, i shall use smiling faces on u. haha this is the theory i learnt from orientation... to make u feel guilty. ya.. so i have been putting on a smiling faces.. and jokking ard.. even though yutong and me was so fed up abt waiting and waiting and waiting....
this is the place where we will perform...
this is the place where ppl sit be staring at us. i actually think that these stairs are more of a barrier for pple to come and see the performance loh...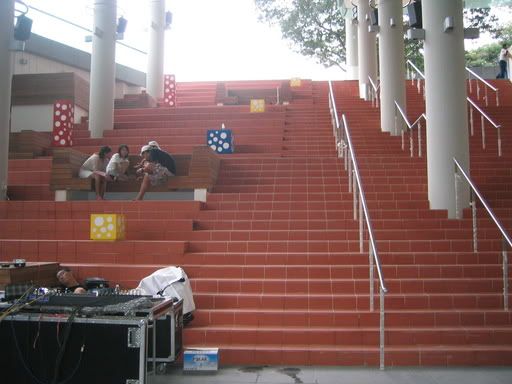 well actually dun wanna blog abt these pics.. but i upload them for my duet partner see.. so might as well blog abt it also haha...
then after that we have to run bet admin blk and concourse to get our stuffs. and then the ACF pple also attitude problem.
ok.. enuff said of the afternoon. one word to describe.. tired
anyway at night, i went back to BT campus to get my smuve shirt.. actually wanted to join the closing time concert.. but heard that its too crowded to go in. so i din go in.. instead, me, yanfang, corinne and alex went ard taking pic for the last time we are in BT campus...
haha nothing special since we took alot before..
but yanfang is damn chor to some kind souls who help us take photo.
this is the photo that is taken by the kind soul: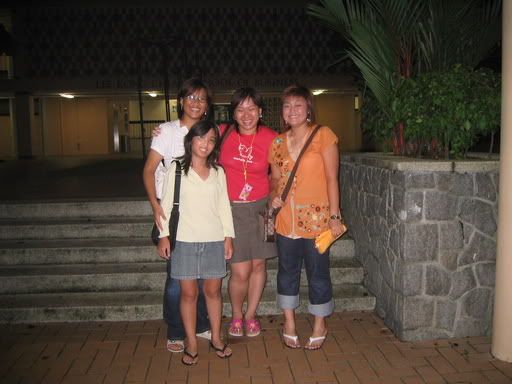 then apparently the photographer place the camera at a lower level near the chest to take this picture (no doubt i think this angle looks nice).. after they help us take, yanfang chorly say loudy: "they are like taking pic of our breast." haha ah chor say things loud one.. so the guys all can hear.. super chor loh.. poor guys.. with my poor camera.. being accused by chor yanfang of producing chor photos.
then we take pictures at our beloved GSR30 also...
the outside.......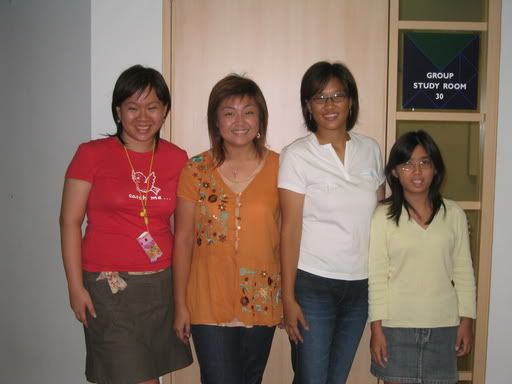 the inside........